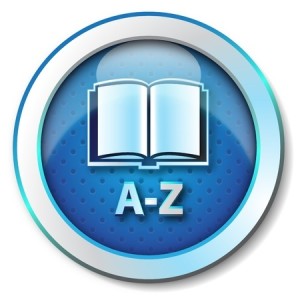 April is now over and so is the A to Z Challenge 2014. I have never participated in something like this and I am so glad I did. It was a challenge for sure, but so worth it!
When I heard about this challenge for the first time there was only two days to prepare. Grabbing a pen and notebook I quick wrote a list of the alphabet and gave space to write ideas for each letter. Some letters were much easier. I wanted to have topics with only Spanish words. It was a fight to find ideas for U, Y & W. In the end I had to use English for those topics. There were some days I didn't get to write my posts due to some family obligations, but in the end I am very proud I finished! Looking forward to next year.
Here is a list of all the A to Z Challenge posts in one place. Hope you have as much fun reading them as I did writing them!
A (Día 1)
A-is-for-Apps: 7 Offline Apps I Use All The Time!
B (Día 2)
B-is-for-Baleadas: The Best In Town!
C (Día 3)
C-is-for-Copán: The Department & City of Ruins
D (Día 4)
D-is-for-Don & Doña: Tradition and Honor
E (Día 5)
E-is-for-Escuela: Public or Private?
F (Día 6)
F-is-for-Fibromyalgia: 10 Travel Tips for Fibro
G (Día 7)
G-is-for-Guava: A Super Fruit
H (Día 8)
H-is-for-Hamaca: A Must Have!
I (Día 9)
I-is-for-Iguanas: A Water Oasis
J (Día 10)
J-is-for-Jamaica: A Wonderful Source of Antioxidants
K (Día 11)
K-is-for-Kilómetro: Versus a Mile
L (Día 12)
L-is-for-Loro: Meet a Part of The Family
M (Día 13)
M-is-for-Marimba: A Magical Sound
N (Día 14)
N-is-for-Nacatamal: Great With Coffee!
O (Día 15)
O-is-for-Otoño: One of The Four Seasons
P (Día 16)
P-is-for-Pulapanzak: Waterfalls for Your Visit to Honduras
Q (Día 17)
Q-is-for-Queso: No, Not for The Camera
R (Día 18)
R-is-for-Roatán: Hop, Skip, and Jump Over To Vacation
S (Día 19)
S-is-for-Samsung: Galaxy Note III
T (Día 20)
T-is-for-Talgua & Tamales: Under Siege by Semana Santa
U (Día 21)
U-is-for-Umbrella: A Loyal Travel Companion
V (Día 22)
V-is-for-Vaca: A Dairy Farm for The Future
W (Día 23)
W-is-for-Watermelon: No Allergies in Our Family
X (Día 24)
X-is-for-Xiomara: People Want Change
Y (Día 25)
Y-is-for-Yamaha: Gas Is Gold
Z (Día 26)
Z-is-for-Zanahoria: Carrot Cake Is An Excellent Choice