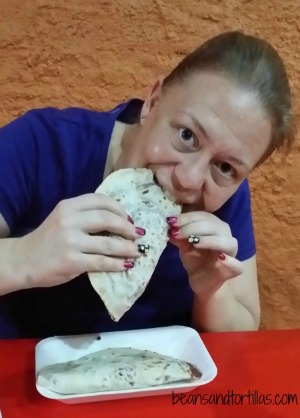 B-is-for-Baleada: Did someone say baleadas? Oh yes, my daughters are right there for this Honduran food! In fact my youngest will choose a baleada (or 2) over devouring a hamburger. The great part – they are fast and simple.
What is a baleada? There is no English translation for this particular breakfast, lunch, or dinner option. Simply they are made of a flour tortilla, beans (refried), cheese, and mantequia (Honduran version of sour cream). You can add all sorts of other items to make the baleada your own. Some yummy ideas could be: eggs, sausage, avocado, chicken, platanos etc.
You can easily make this dish at home. Not difficult to create; even my 14 & 11 year old daughters make these on their own. However, a great alternative is date night or family night at "Paty's" where they make them so delicious! In order to write this post I twisted my husbands hand (not really – he loves going to "Paty's") and had him take me out. We went to eat our favorite baleadas and capture what we so love to eat!
A baleada will always come with a beans, cheese, and matenquia. You can request not to have cheese or mantequia if wish. My husband ordered his baleada with chicken and platanos. I decided to have mine with eggs, and avocado (I can never get enough avocado). Oh and I love to add a little spice – so for me the hot sauce was a must! Also, what even better – the price! Baleadas are large and filling. Depending on what you order prices can range from about Lps. 10-25 (about .50 cents to $1.25). The whole family can feast for those prices!
Everyone here in Catacamas knows "Paty's". She has been in business for 15 years. Starting out extremely small; more of a street location she has created her own restaurant. It takes a lot of work and dedication to make it. Born and raised here Paty has for sure created her mark. She has made a living and raised 4 children. All in a days work, right! Hats off to our favorite spot for baleadas!
So, when stopping off in Catacamas, Honduras it is a must to try these great baleadas! Give me a jingle and I will make sure to take you to "Paty's" where you will be served the best in town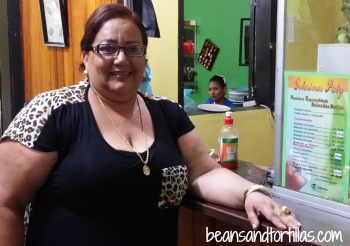 !
Have you every eaten a baleada? What is your favorite?