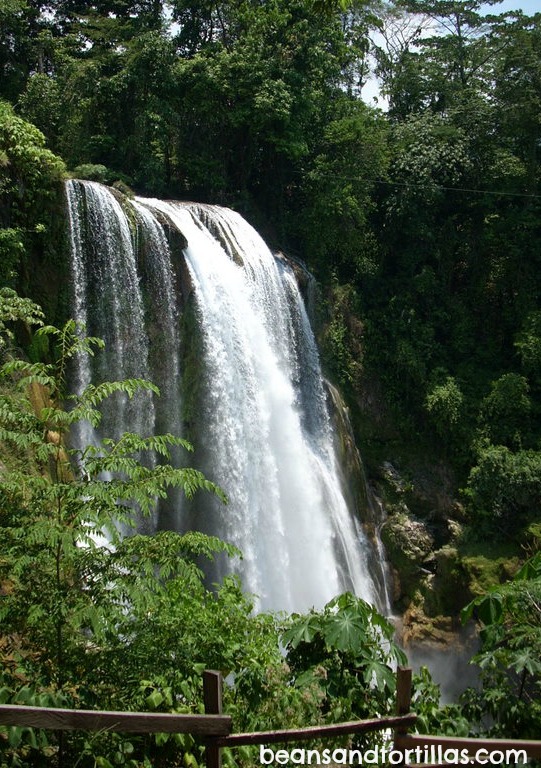 P-is-for-Pulapanzak: Waterfalls for your visit to Honduras? I know just the place! It takes some time to get used to saying the name but after some practice, plus some time there visiting I know you will be able to say it…..Pul-a-pan-zak.
This cascada is located about 30 minutes north of Lake Yojoa in the Department of Cortés. From where I live in Catacamas it takes about 6 ½ hours to arrive. It is well worth the trip and the dramamine I have to take.
I was fortunate to experience this waterfall first hand in 2008 with my husband. The Pulapanzak is the largest cascada here and is a major place of interest for travelers. They have zip lines for the daring and time to relax swimming above. Since we were on our way to visit Tela at the time, our stay at the waterfall was short. We didn't swim or swing from up high, but have thought the next time we go we will make more of it.
It has been several years since we were last there. Our daughters are older now and it would make a great adventure for them. They love leaving town and experiencing new things, so I think it's about time we go again. Can anyone say ROAD TRIP!!! Time to update our picture library.
If you want to take advantage of your trip to the waterfall I
recommend also taking the short drive to Lake Yojoa – you will devour the best fish around! Not to mention great scenery, marshes, forests, hiking, and even bird-watching. I recommend the cabins at Los Pinos. We had a great stay for about $10 and meals for about $5 each (prices may be a bit more now but very reasonable).
Have you been to the Pulapanzak? Would you fly in the sky on the zip line?