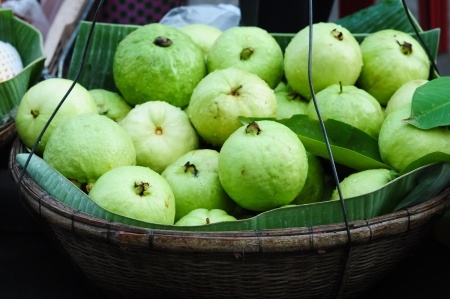 G-is-for-Guava: A power house fruit.  I had never heard of a guava before my move out of the USA.  However this smaller, round or oval shaped fruit is very common in Honduras.
When ripe the guava smells great, is sweat, and soft.  They range in color from white, pink to peachy.  Most of the pictures I see of the guava fruit have a pink, fleshy inside but I am more familiar with the white variety.
Guavas are delicious raw. The skin is edible just like an apple. They contain a lot of small seeds in the middle that you are able to eat. No a guava won't grow in your belly when eating the seeds like watermelons!
A guava is a super fruit!  They are a great source of vitamins C & A.  They are rich in fiber and also in potassium.  The guava contains B-complex vitamins as well. What an amazing way to start the day!
What are some ways to have your guava?  Our family loves them raw!  They get expensive here for some reason so we share by the slice.  You may also want to try your guava in juice, jam, ice cream, or raw in salad.
Have you ever tired a super fruit like guava before?