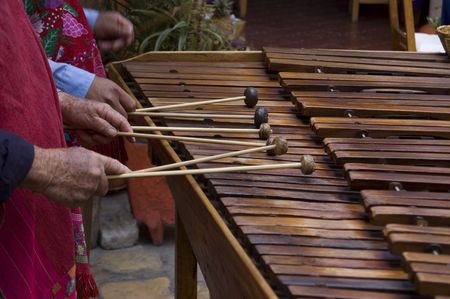 M-is-for-Marimba: The marimba is a musical instrument that, for me makes a magical sound!
Honestly, I hadn't heard of the marimba until a few years ago. While watching T.V. my husband pointed out this instrument. I fell in love with the sound. In fact, we had looked into classes where the whole family could learn, but never got around to it.
It's too bad we didn't take the classes. The teacher, who was amazing, passed on. He donated his own marimba to the school that my children attend. Now students can learn the art of this music to hopefully carry on for generations.
The marimba is a percussion instrument usually made of wood. You use a mallet to strike the wooden bars to make sound.  There is a debate whether this instrument originated in Africa or in Guatemala. I know that it is popular in Latin America.
The group Marimba Usula Internacional gives a great example of this rich music. They were founded in 2000 and are located in San Pedro Sula, Honduras. They keep this style of music alive not only here but internationally as well.
I have always wanted to learn a musical instrument – I think that the marimba would be an excellent choice. Plus how fun for the whole family to get involved.
Have you heard of the Marimba? What are your memories of this traditional sound?