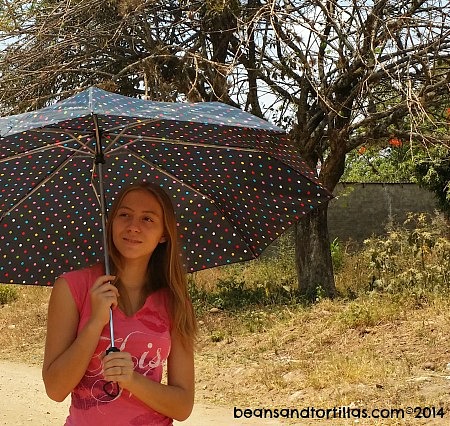 U-is-for-Umbrella: What can your sombrilla do for you? Really your umbrella can be a loyal travel companion. No, it can't give directions like your smart phone, but it does more than you think and doesn't talk back. Many leave home without their umbrella, but this companion should be treated like a good friend – kept close! You may ask, "What else can my umbrella do for me than keep me dry?"
5 Travel Companion Uses for Your Umbrella
Weather – this is the most obvious use of the sombrilla. It can keep you dry and keep you cooler. Have a long trek ahead your umbrella can help with the elements.

Weapon – all sizes of umbrellas can keep you safe. Out and about in a land you are not familiar with? Keep your sombria close. It could be a bodyguard in disguise.

Walking stick – need some extra balance? A longer umbrella can help with balance and can keep you on your toes. Plus it will keep you company up hundreds of steps for that great view!

Photography – trying to snap that once in a life time picture? Your best friend can help with that. The umbrella can help as a lighting tool. It controls contrast plus helps with shadowing.

Recycle ideas – there are so many ways to help your travel companion for retirement. My favorite is as a clothes drier. Maybe the cloth of your sombrilla needs to be buried, but the metal is in great condition. Just operate and remove the frame. Hang it were you need to dry your laundry and presto!
The uses of an umbrella are many. The 5 above are a great start for travelers! How does your umbrella (friend) help you?
P.S. In a larger city you can use your umbrella to hail a taxi. Just use it as an extension of your hand and wave it all around!