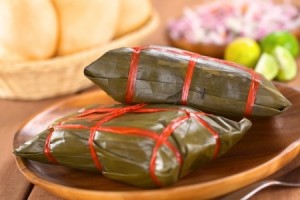 N-is-for-Nacatamal: A very traditional Honduran food. Truth be told I think they are a bit addicting and go great with coffee! What – coffee?? You bet! A good cup of Honduran coffee and a well prepared nacatamal CAN go hand in hand.
The nacatamal is like a tamal and is very popular herein Honduras and in Nicaragua. I have seen this dish in other Central & South American countries as well, just prepared in different variations.
For Christmas and the New Year you will see an abundance of them made. While visiting relatives and friends you will engorge yourself on this tradition. Plus don't forget the ones you made at home. In the USA I made my first nacatamal. I had only been married about 1 ½ years and I wanted to surprise my husband. A friend of mine that I worked with was from El Salvador. She explained a little how to make them. I went home to try and master the art of a Honduran nacatamal. I have to admit, I ended up calling my mother-in-law (Honduras side) to add finishing touches. Needless to say he was surprised and proud. We had family over and all was eaten!
My first try was for sure not my best attempt. Now that I have a few more years under my belt, I can make a nacatamal and there is never a guess that I am not a native of Honduras. It really is an honor to be told that I make them better than some Hondurans they know.
So what does it take to make this type of tamal? First, you need time. This is sometimes an all day progess. If you are making a couple hundred (which I have not) this takes a lot of preparation. It is important to have a good corn masa ready to go. This is a mixture of ground corn, kind of like a dough that will form the outer part. Lard can be used but I have used vegetable oil mixed in the masa, plus all the seasonings. One thing I didn't add the very first time I made them was achiote that helps give color. Mine were white like the Christmas snow. For meat if you wish, pork and chicken are the 2 popular options. They are prepared with onions, green peppers, garlic etc. Each nacatamal will get a small portion of meat. Adding rice, potato, chick peas, green olives, and other vegetables is up to you. I have sometimes seen raisins added too. It's always nice to have a little kick when you take a bite so adding spice to the corn masa is something I like to do. When all is ready the masa and fillings are wrapped in a plantain leaf, tied, and placed in a pot over a wood fire. The plantain leaf and the fire give such a wonderful taste to these beauties. I think my tummy is starting to rumble.
There are many vendors and indivduals that go house to house or business to business selling them just to make a living. I haven't made a nacatamal in a very long time. It's about time to refresh my skills. The family would love with that.
Have you ever eaten this traditional Honduran food? Next time your in Honduras look me up and I will have a batch ready. Better yet we can make them together.