V-is-for-Vaca: A main dairy & meat producer here in the department of Olancho. Milk cows help make our favorite cheese. Cattle provide for cookouts. Two things my husband loves!

Growing up Celio always enjoyed vacas. It wasn't uncommon to travel up in the mountains, walking for hours just to check on his cows. While in the United States (where we met) he had to sell his land and move the cows to different property. Those cows were looked after by cousins on their own land.
For several years my husband worked on a dairy farm in Wisconsin. It was hard work – 12 (or more) hour days, 6 days a week. Sundays were his days off, most of the time catching up on sleep for a new week of the dairy life. As much as it was hard work Celio loved it! How could he not, he got to work with vacas.
Now that we are back in Olancho it would be awesome to have the property that was sold. Unfortunately he had no one to take care of the land at the time. Otherwise we would have a place to escape out of the city.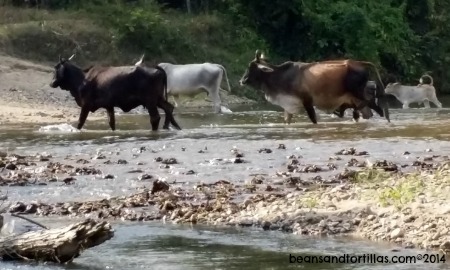 It is a dream for my husband to have land again to raise dairy cows. I would love to have a bunch of chickens too (eggs galore) and a garden – if the chickens don't eat it! Maybe one day it will happen. For now we just keep the dream. Dreaming has been great for our family – a dairy farm for the future!