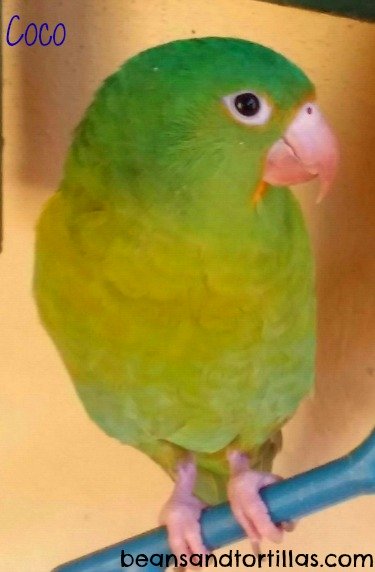 L-is-for-Loro: A Spanish word for parrot which covers many different species bringing a wide variety of wonderful colors and beauty.  Meet a part of the Family – Coco the lorito.
Coco is a green parakeet native here.  They can be found from Mexico to northern Nicaragua, but have also been found making parts of southeast Texas home.  You can usually find them in the mountains.  May is the best time to find a young lorito.
They are considered medium in size although, I consider him small.  He is mostly green with a yellowish beak.  There is a small dot of orange right under his chin area.  Loritos I have been told live about 5-7 years.  If you take very good care of them they may live 10-15 years.  Coco loves fruits, platanos, and of course his tortillas!
We have clipped one of his wings but have not made him live in a cage.  A cage just gets dirty and full of bugs.  So, I just let him have the walk of the house. Coco's favorite spot is on a window sill in our parking area.  He has his water bowl, which I find him in many times taking a bath and talking up a storm.
At night time we bring him in the house where he usually sleeps a top of a hanger that is attached to our clothesline in the living room.  Coco is fun to watch when he is sleeping.  It amazes me that he can sit with his eyes closed and just take a snooze.  This lorito even speaks his mind when we turn on a light and he's not done with his beauty sleep.
So today we learn a little about our green lorito.  Coco really is a fun part of the family and would not be the same without him. Even when he's running (run not fly) after our toes to take a nibble.
Who else has a parrot or a green lorito that is a part of the family?