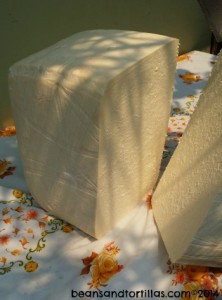 Q-is-for-Queso: Say Cheese! No, Not for the camera this time. I am talking about how my suegra makes a living. She sells cheese. It may not be anything fancy, but I find it fascinating.
The queso business was first started by my suegro many years ago. He is no longer with us, but has passed this way of supporting the family to his wife. Many businesses are located right out of the home. It is so much easier to start and have a business of your choosing throughout Honduras. Cheese from the refrigerator to the customer's hand at the front door. My suegra sells queso from her living room.
My husband plays a major role in helping his family with this business. The cheese comes from the mountains where all the cows are taken care of. One of the cousins; along with his brothers all prepare cheese. Twice a week they head to town and sell queso to my husband (and many others) for his mother.
Cheese is bought at what we would call whole sale price. During each week there could be sales ranging as high as 250 pounds. The profit is almost nothing but in the end it is something. For example if a pound is bought for Lps. 38 ($1.83) it could be sold for Lps. 40-41 ($1.98). Only 15 cents is made for each pound sold. One important factor, making sure you are selling for the right price. This means trips to local stores and ask – ¿cuanto cuesta? Suppose someone is selling for more lempiras than you are? Then raise the price. However, if they are selling for less, than you have no option but to drop the price. It hurts the pocket to do that but if she doesn't than customers don't stop to buy their cheese from her.
A week's routine involves buying on Sundays & Thursdays. The cousins arrive an
y time after 2 pm. That makes for a long wait. My husband will call to ask if it's close to time of arrival but they don't usually answer their phones until they are really close (partly because of lost signal). Since we are not the only buyers it is important to be first and then play to game of sitting & waiting. This happens more on Sundays. Thursdays are usually a little easier to manage.
Blocks of queso can range from 30-150 pounds. My husband takes care of weighing it, paying, bringing it back to his mother, and many times dividing it into ½, 1, and 2 individual pounds. There is a lot of work & time that goes into the cheese business (and think they don't make it) for pennies, but it does put food on the table.
Popular types of cheese
Cuajada – typically meaning curd. This cheese is made with cow's milk and vinegar or a special agent. This cheese is easy to make and ready in a few hours. When it is done it sort of looks like a big block of hard tofu instead of a curd cheese.
Queso fresco – this cheese is more wet, soft, and very good over hot food.
Quesillo – is your mozzarella type of cheese. Here it is what I call – pizza cheese with juice. It is a bit trickery to work with when making pizza or lasagna because of this.
Seco – our favorite! It's not as hard as parmesan but similar. It has an aged and salty taste. In our house we usually shred it that way the queso lasts longer.
I love cheese! It look me time before I would eat Honduran queso. The flavor grew on me and now I am addicted. Beans & rice are always better with our shredded flavor.
Have you heard or tried any of these cheeses? What is your favorite queso from where you reside?