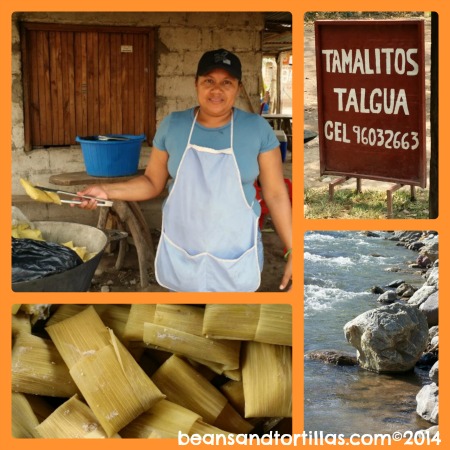 T-is-for Talgua & Tamalitos: Two things that go hand in hand. If you ever adventure over here to Honduras both this village and these yum yums should be put on the bucket list.
During this past week we were all under siege by Semana Santa! Towns just shut down for the most part (only a few places stay open). Residents and travelers alike enjoy the down time & good eats during Easter Week! I know our family does.
Most of us go to the one of the rivers near by. It's extremely hot during this time of the year. Cooling off is a must. Out of 7 days we were at the river for 4 of them. The first place we decided to go was Guanja Talgua.
We normally just shorten the village's name to Talgua. Everyone knows the river that it shares. Rio de Talgua starts in the mountains with very cold water running through it. There are some Caves that are very famous here which I climbed into many years ago. Checking it out again is a must for a future post.
Swimming was our plan, but corn tamalitos was our mission. Stopping off at Florinda's food stand is a treat! Getting there at an earlier hour is important. They sell out of everything fast.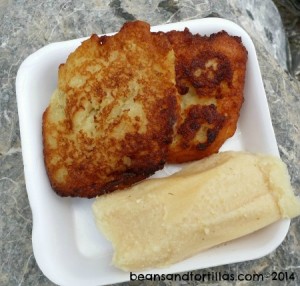 What's on the Menu?
corn tamales

corn fritas

corn on the cob

grilled corn on the cob
Florinda owns one of the food stands in the area. She has competition but in my eyes she triumphs! Not only are her tamalitos the best but she is humble, happy, and always gives us a little sample. After taking pictures to share with the rest of the world she made me a corn frita, served it with mantequía, and never charged me. I tried to pay but she didn't budge.
After we purchased our lunch we headed to the river. There were a lot of families there looking for relief from the heat as well. We pitched our stuff and jumped in. It was for sure cold but that didn't stop us. The river seemed warmer this time. Maybe everyone's body heat warmed up the icy water.
Our day was fun and cooler. We were full after stuffing our tummies with tamalitos and corn fritas. That night we all slept well. Family time together can do that for you.
What do you do during Easter Week?