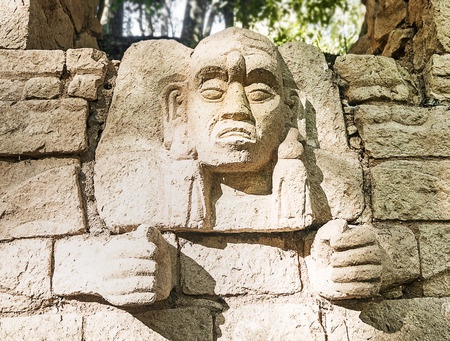 C-is-for Copán: Located in the northwestern part of Honduras. It is one of the 18 departments (like states in the USA) that make up this small country. The Department & City of Ruins share the border with Guatemala and is known for Archaeological Mayan history.
Even though this area of Honduras is known for the Ruins there are other great places to experience that are worth mentioning.
Ruins of Copán
This is a destination must see for any traveler coming here to Honduras.  The Ruins of Copán or just Copán for short is said to be one of the best Mayan Ruins found.  The Valley where the ruinas lay throughout, spans for about 10 square miles.  The area where most of the Archaeological remains is called "The Main Group." From there you can easily walk to 2 different museums.  Copán was named a World Heritage Site by the UNESCO in 1980. There is much to see and can easily take you a couple of days to fit all the fun in.
El Puente
If you are looking for more Mayan Ruins then this is another place on the itinerary.  This is for sure off the beaten path.  El Puente hardly sees even a small amount of travelers as the Ruins of Copán does.  This makes for a great day trip with some sightseeing followed by relaxation.
Santa Rosa de Copán
As the department capital of Copán, Santa Rosa sits on hilltop that makes for a great view.  There are no major tourist sights per say, but many travelers stay longer than planned.  Hard not to do when the locals are happy to share your company.
Macaw Mountain Bird Park
Only about a 5 minute drive outside of the Copán Ruinas you can visit this bird park that is filled with macaws, toucans, and parrots.  Take advantage of seeing so many different kinds of birds all in one spot.  The park is open from 9 am – 5 pm daily.  Tickets cost $10 per person, last time I checked.  A must see and great pictures to boot!
Who would love to go and see the Mayan Ruins? What about trekking around the Department of Copán to see all the other adventures it has to offer?