R-is-for-Roatán: The island experience. I have heard it said this isla is an unknown hot spot sitting in the Caribbean. Soon, as a family we will leave home from the mainland and vacation in this tropical paradise.
This past March Kevin & Angie from Newton's Travels told us they wanted to come and visit Honduras, specifically Roatán. We were thrilled! Not only was family coming from so far but they wanted us to stay with them on the island. Since we have never been to Roatán (or any island) you could say all of our hearts skipped a beat – maybe even stopped for a moment.
Since this trip hasn't happened yet I wanted to write about how we are going to hop, skip, and jump over to vacation. You would think that we would have a much easier time arriving to our destination than our incoming family. Let's see……….
Kevin & Angie are coming all the way from Illinois. They will fly out of Chicago to Miami and then directly into Roatán. It will be the same way back – hopefully with no delays or other hiccups.
My husband, 3 daughters, and I will be starting our "hop" part of the trip from Catacamas our home town. This hopping experience could be two different routes via 4 wheels to arrive at the coast. Then we will be able to "skip" onto a ferry that should sail in the northern direction to our vacation spot where we will be able to "jump" off and start our fun frenzy! Sounds like a piece of cake, right?!
Honduras maybe small compared to the USA but when it comes to traveling don't think you can get to your destination any faster. There are so many mountains and only a few main roads to important cities. When I say few, I mean from the 2 routes we can choose from there is a grand total of 3 main roads. Sounds simple. However there are a few things to think of. Let me explain.
First Route – Catacamas to La Ceiba
This is the shortest and best route to get us there! We would travel about 6-6 ½ hours heading northwest. Our family has been to La Ceiba driving this route before. So this would be the first choice for so many reasons.
The trouble is we have nowhere to put our truck that is safe. Last time we were there we stayed with people we knew but now no longer live there. So, unless we can find someone else trustworthy this option has to be crossed off. Home to La Ceiba doesn't offer bus schedules but the next route does.
Second Route – Catacamas to Tegucigalpa to Tela to La Ceiba
Just by reading how many cities we travel through you can see why this is the second choice but most likely the only choice. Instead of a straight shot our route looks more like a big C (for Ceiba). Traveling from home to Tegucigalpa will take about 3 ½ hours. We will have to go the night before and stay with his sister because the next bus ride leaves at 5 am. Tegucigalpa to Tela I think will be about 7 hours. Then to La Ceiba it should be maybe 2 hours. That all totals 12 ½ hours or so. What makes it all worthwhile is – we are visiting with family and going on vacation!
La Ceiba to Roatán via the ferry
I am hoping we can get to the ferry in time. La Ceiba is the only port with 2 trips over to Roatán. Th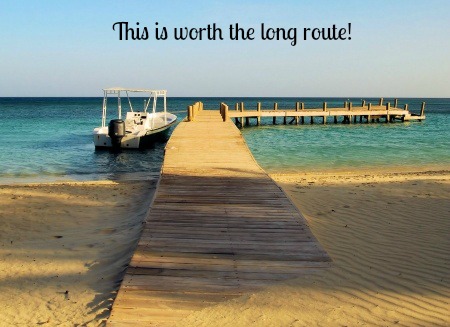 e scheduled times are 9:30 am & 4:30 pm. Once we start out on the ferry it should take us about 1 ½ hours before we jump off onto paradise.
We will be a bit tired when we arrive but it won't matter much – seeing family makes up for the long trip. Going back will be more difficult for sure!
Have you ever been to Roatán? Did your route look like ours or was it more like Newton's Travels?