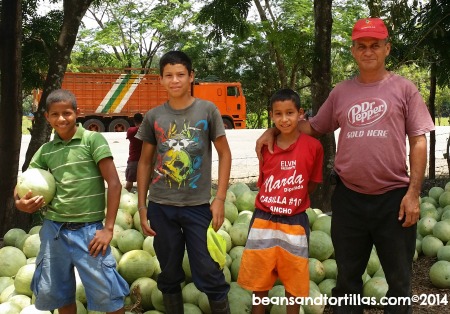 W-is-for-Watermelon: A fantastic fruit that brings a smile to my face! Thank goodness there are no allergies in our family. I wouldn't know what to do. We could eat it for breakfast, lunch, and dinner – no problem.
I remember the first time my husband and I picked out a watermelon. It's as clear as yesterday. There was a huge bin of them at the store and his eyes did cartwheels. Celio was like a kid in a candy store or on Christmas day. He took forever to find just the right one. It was perfect!
When I was pregnant with my oldest Emily all I wanted to eat was watermelon, peppercinis, and drink a large glass of milk. I know so weird! I just couldn't get enough of the combination. I ate so much sandia it's not surprising that she loves it too!
While we were out the other day there was a stop we had to make. You guessed it – to buy watermelon. Before going to the river I wanted to buy sandia to take with us. Celio said that they were too expensive in town (Lps. 40 = $2). Just before arriving to our destination we hit the jackpot! Just look at the pictures. So good! Not to mention they were only Lps. 15 = 75 cents. We bought three and enjoyed every bit.
On the way back, after swimming (5 hours) my husband decided to get a few more – 12 to be exact! He gave a few to his mother. The rest won't last long in our house. Watermelon is great by itself, with lime, in ice cream, or as a juice.
Jose and his boys sell sandias for a living. They choose the largest ones and put them to the side. They are for exportation to El Salvador and The United States. The medium & smaller watermelons are for sale here in Honduras. This family was happy to poise for the camera. Proud to show off their fine sandias. We were happy to eat them.
Watermelon is a happy fruit – does it make you smile and do cartwheels?