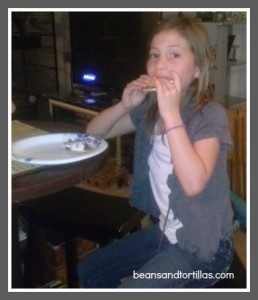 "What is a S'more??  Lily's question came right after Grandma came up with the idea of making s'mores during movie night.
My youngest had never had this treat before last night.  Every kid should be able to say that they have enjoyed that chocolate, marshmallowy and graham crackerish delicacy.
So we paused the movie Brave
and ran to the kitchen. Luckily we had the ingredients for S'mores
.
So, we rushed outside by the grill to get the marshmallows on fire! Once some of us had a charcoal colored marshmallows we constructed the graham cracker and chocolate like a sandwich. Oh so tasty!!!