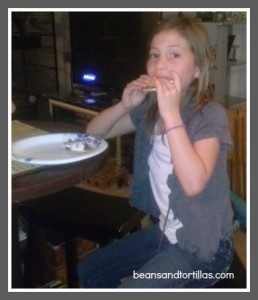 "What is a S'more??  Lily's question came right after Grandma came up with the idea of making s'mores during movie night.
My youngest had never had this treat before last night.  Every kid should be able to say that they have enjoyed that chocolate, marshmallowy and graham crackerish delicacy.
So we paused the movie Brave
and ran to the kitchen. Luckily we had the ingredients for S'mores
.
So, we rushed outside by the grill to get the marshmallows on fire! Once some of us had a charcoal colored marshmallows we constructed the graham cracker and chocolate like a sandwich. Oh so tasty!!!
Lily was so excited about her treat that once she was done, licking her fingers was the only option. So I asked her "do you know what a s'more is?" Her response was "Yep!!! It's something really yummy!!!" All I could do was giggle. My youngest now knew how to make & eat an American treat "The S'more
."
Once done with our treat we sat back and gladly watched our movie.  Brave
is such an amazing story!!! This is Lily's 2nd time watching it and loved it again! Since we own it I know we will be watching it over and over.  Her sister's also received Brave during Christmas time. It really made a great gift!
Have you and your family seen Brave?  What did you all think?