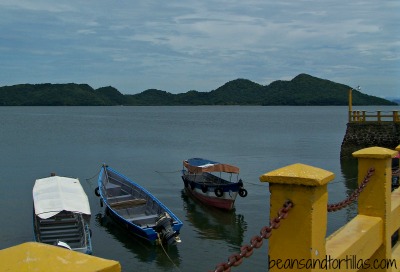 Hola all the way from Honduras!  I am glad to be participating, for the first time, in The Ultimate Blog Party 2014 (April 4th -11th).  I hear it's a blast – so let's have fun!
I am the happy mother of 3 wonderful daughters.  In just over a month I will be celebrating my 15 year anniversary (I can't believe it)! It sure has been an adventure!
I moved to Honduras 4 ½ years ago.  My husband is from here and in order to keep family together I shipped everything and traded my U.S. roots for some new ones.  Btw, the soil is very different but good!
I love to share our daily experiences.  As a family we laugh, we cry, and we get frustrated when the lights go out (can happen often).  Otherwise we live a bilingual/multicultural life just as any – hahaha! No really, it can get difficult; raising a 14, 11 & 8 year old in any country can be a bit trying.  However, it works!
I have been to many places here.  More than many of the locals.  In September
we will be headed to Roatán.  The excitement is sky high since we have never been there.  We will meet up with family (from the USA), which makes it even more special.
As I help plan the trip to Roatán I realize how much I want to travel all around the world.  On track to be a Destination Expert – for sure Honduras! So happy at the idea of filling up my passport with stamps from everywhere.
For now UBP2014 is my next stop & stamp!  Hope to see you there!