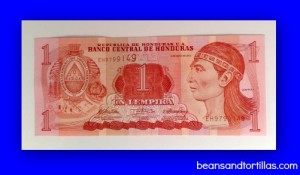 "Cuanto cuesta? How much does the rice cost?" I ask. I am told 10 Lempiras a pound. In the Honduran market place you try to barter down, but lately it's getting much harder. Just like U.S. prices have gone up, it has here as well.
What is a Lempira and what is it's value you may ask?
La Lempira is the national currency of this extremely poor country. The Honduran currency is named after a national hero; an Indian chief that led the indigenous Lenca people to resistance during the 16-century against the Spaniards. In 1537 he died leading this fight.
In some regards it is similar to the U.S. Dollar. It is broken down in centavos, which means "cents". For every 100 centavos you have 1 Lempira. You will observe both coins and banknotes when spending and receiving Lempiras.
Coins: 10, 20, 50 centavos
Banknotes: 1, 2, 5, 10, 20, 50, 100, 50
Gas for the truck – Lps 105 a gallon ($5.00)
Dozen eggs – Lps 36 ($1.75)
Potatoes – Lps 13 a pound (0.65 cents)
Electricity – Lps 350-450 a month ($17-$22)
Internet – Lps 360 a month ($17 and it's still dial up)
Water – Lps 225 a month ($11.00)
Laundry soap in powder – Lps 15 a pound (0.75 cents – powder is much cheaper than liquid)
You may saying to yourself "Holy cow, I am moving down ASAP!" However, remember my husband brings home less than $300 a month. These are only a few of the expenses that give you an idea of the cost of living (not to mention all the things my 3 daughters need, not just want). When you add them all together it gets very tricky. I have to be creative in how we persevere each month.
I am for sure not complaining! I love my life and living in Honduras is a central point of that. We as a family just have to keep in mind: what is important, builds our family & how we can contribute to others. I think we are in a good place to do that!!
What is your native currency? How does it translate into expenses?