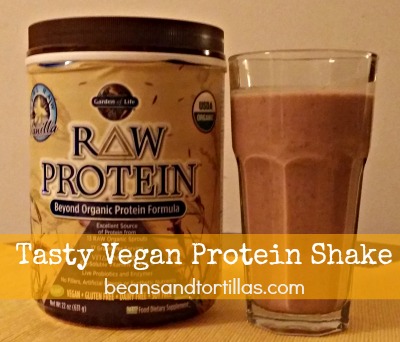 My NEW favorite breakfast begins with simple ingredients but results in a tasty treat. I now have a favorite vegan protein shake that puts a smile on my face. Plus it makes my belly very happy!
Since I am a gluten free vegan I have to be creative in the mornings. I don't always have time to be as prepared in the early hours of the day so getting the ingredients out to make a tasty vegan protein shake is perfect for my lifestyle.
Really though you can make this protein fix any time of the day. My girls like making a shake as an after school snack. Then they are able to wait for dinner much easier 🙂
I like to make this shake with Garden of Life vanilla raw protein powder
. It gives me the protein I need to help meet my requirements for the day. I love using almond milk
(sometimes cashew milk), which paired with the protein powder makes my belly even more happy. I am not usually a banana fanatic but I do add it, frozen strawberries (instead of ice), and chia seeds.
When making a vegan protein shake you can add all different things you enjoy. Change it up to make it just right for you. Don't be afraid to experiment. Most likely you will find lots of different versions that tickle your fancy.
Also remember this is an easy meal you can make while you travel. Make sure you pack an individualized blender
& the protein powder. You can pick up the other ingredients when you arrive at your destination. If you don't want to make a shake you can throw together a protein drink together. Just add your favorite vegan milk & powder into a blender bottle
and shake it up.
I LOVE this protein treat! It's easy & tasty – not to mention it's a gluten free vegan meal/snack I can have. I am going to play around with different ingredients to see how other ideas compare with this recipe. It will be fun to see how adding different fruits, seeds & nuts add to its yumminess! I will let you know how they turn out.
Tasty Vegan Protein Shake
Author:
Cook time:
Total time:
Ingredients
1 c unsweetened original almond milk
1/2 banana
1/2 c frozen strawberries
1.5 tsp chia seeds
1 scoop protein powder
Instructions
measure out the almond milk and add to your blender
add the banana in smaller cut sections
finally add the chia seeds and protein powder
blend together until creamy & smooth
pour into your favorite travel cup (with lid) or bottle for a spill free beginning to your day
Notes
Remember you can add anything you think will taste great to your protein shake. Change it up and have fun!
Do you enjoy making protein shakes? What are some of your favorite high protein vegan meals and snacks?
P.S. You can add this plant based protein powder to overnight oats too! Recipe to be posted soon 🙂