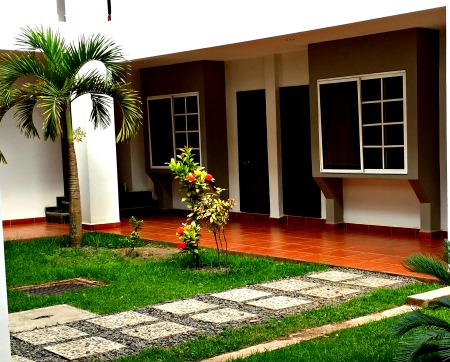 Family and friends are always welcome to come and stay with us in our home. In fact it's an honor. However, we take no offense if they want to stay in an American style hotel in town with some of the comforts. I always have my look out for hotels and what they have to offer. Having air conditioning & a pool are major bonuses! At our house there's no such relief from the heat.
I was nicely surprised the hotel in town, right at the center of Catacamas, had a free moment to have a walk through and answer questions. In fact, immediately after ending my chat with the owner of Julio Verne he set up the interview at Hotel Papabeto. This time his wife, Alejandra would take turn in giving an interview.
Amazement was what first crossed our faces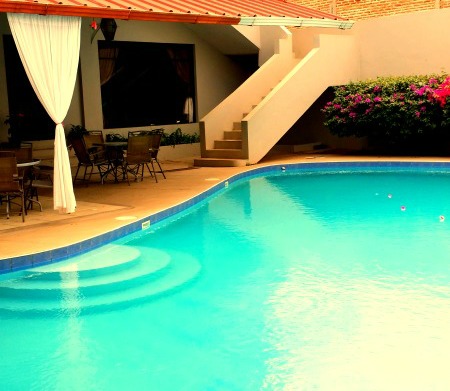 ! I had never been inside. My daughter (camera girl) and I were impressed with what we saw. You would never think, before walking through the doors, that this American style hotel existed. We had found a hidden treasure right here in Catacamas!
Upon walking through (very nice, large doors) we first noticed the pleasant, smiling face of the receptionist. Taking it all in, we were led to the back of the hotel to start with the 20 rooms that are available. Simply gorgeous! Most rooms have two full beds & private bath. If you would like a larger bed they have 2 cuartos that offer one queen size.
Hotel Papabeto offers its guests a pool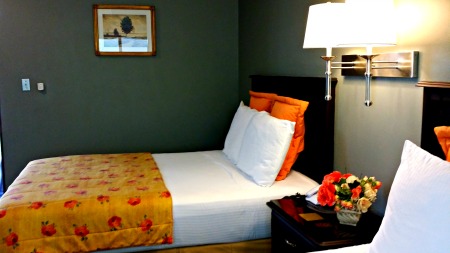 – so inviting with the weather we have here (my daughter and I were ready to jump in). You are able to order food from the restaurant that's available. Also, they have a small banquet hall for meetings, conferences, or parties. You don't have to be a guest to rent the beautiful space – just plan your "get together" at Papabeto's. In fact my oldest is already set on having her Sweet 16 party here – this hotel in town is a great location for it.
Many of the travelers that stay are on business. Alejandra did express having had visitors from places such as: France, Brazil, Germany, Costa Rica, and the USA. Right now they have many guests from native Honduras. They wish to promote tourism. Having more families stay and have their vacations at Hotel Papabeto is a true wish of theirs.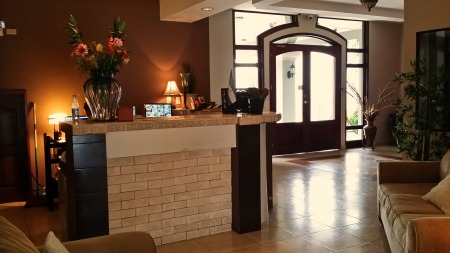 It was such luck to get a tour of this beautiful, American style hotel. Papabeto's has lots to offer. The owners are extremely friendly and take pride in giving you a great vacation spot. I look forward to working with them to plan my daughter's birthday party when the time comes. We better get saving for this event. Our guests will be able to stay right where the party is! 🙂
Where are some of your favorite hotels located? What was the best part of your stay?