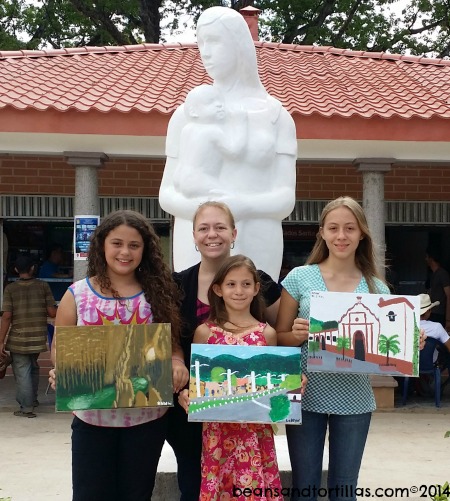 I would like to announce the first post for Kids Corner here at Beans & Tortillas. Every Monday I would like to take a moment to share something "Kids" related from our family to yours. In actuality my ramblings may pertain to just about anything. Topics could range from family stories & outings to crafts, games, and travel tips for kids. The sky is the limit – the dreams are endless.
The perfect time to begin Kids Corner is today. Why? Kids ask why all the time. My answer is – Yesterday was Mother's Day! It was a beautiful day to celebrate and enjoy my family. I would love to share a few things that we did and how we spent the day.
The start of our day was at about 6:30 am. My husband made some coffee with a Happy Mother's Day kiss. A perfect start for the day. However I really didn't get a chance to drink my cofee in time. We rushed around to quickly get ready. Our outing was to the village of El Coyote to pick ciruelas. This fruit translates to plums but are nothing alike. When they are tart (less ripe) they are great with salt & hot sauce. Otherwise they do taste sweet when given a bit more time on their branches.

.
The hope of bringing a huge amount of circuelas turned to few. I think for every 10 we each picked, 5 of them were eaten. On the way back we stopped to change a flat tire (can happen often here). It just so happened my husband was able to show me another fruit called negritos. The Tree was right there where we operated on the truck. Negritos are NOT a fruit I like. I hate to say I spit it out as soon as it hit my mouth. Made for a good laugh. When we left I was the only one that didn't have a black tongue.
We arrived back home before the lunch hour. Everyone took turns showering to get ready for an exhibition at the Central Park in town. My daughters are taking art classes, and they had painted there "firsts" to show off. The art teacher had restored the statue of a mother and child. Mother's day was presentation day – how appropriate! From the pictures you can probably imagine how proud I am of their work!!
In the evening we all went to the Don de Nandy Restaurant for a Happy Mother's Day dinner. None of us had been there before but it turned out to be a great stop. The atmosphere was perfect too. Before the food arrived my youngest Lily played on the swing set. She loved it. The food was amazing! Portions were huge and the taste was something I would for sure recommend. Each of us left stuffed. Thank goodness we took pictures before we ate.

It was a Mother's Day to remember! I enjoy any moment with my family. I don't have to have a special day named in honor of my role as mamá but it is always nice to be remembered. It does seem to recharge me for the rest of the year!
How did you spend your Mother's Day

?